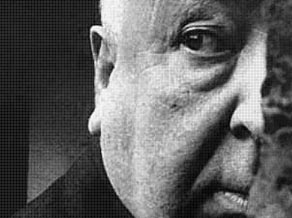 HITCHCOCK NA ESPLANADA
Em Setembro, Hicthcocok continua a estar na esplanada da Cinemateca, aproveitando o último calor do Verão. De quinta a sábado, às 22h30.
01. SEXTA
THE TROUBLE WITH HARRY (O Terceiro Tiro)
com Edmund Gwenn, Shirley MacLaine, John Forsythe, Mildred Natwick, Mildred Dunnock, Royal Dano, Jerry Mathers
EUA, 1955 - 99'' / legendado em espanhol
THE TROUBLE WITH HARRY é um Hitchcock diferente… o reverso dos outros filmes de Hitchcock: ao mundo da culpa contrapõe-se o universo onde ela não existe. Porque é que esse universo nos faz rir tanto? Talvez convenha, depois de rirmos, pensar nesta pergunta. Talvez Harry seja muito mais perturbante do que alguma vez pensámos. Mais de três décadas após este filme, a obra de um cineasta como David Lynch (BLUE VELVET, TWIN PEAKS) com imagens de um paraíso terrestre representado pelas comunidades rurais nos EUA, que encobrem o crime, o medo e a indiferença, confirma o que Hitch eventualmente pressentiu. Talvez THE TROUBLE WITH HARRY seja não só o mais inquietante mas também o mais amoral dos filmes de Hitchcock.
02. SÁBADO
DIAL M FOR MURDER (Chamada Para a Morte)
com Grace Kelly, Ray Milland, Robert Cummings, John Williams, Anthony Dawson
EUA, 1954 - 105'' / legendado em espanhol
Adaptação da peça homónima de Frederick Knott. História de um crime falhado que procura transformar-se em crime perfeito. Tendo falhado o atentado contra a mulher, o marido procura fazê-la passar como assassina do homem que contratou para a matar. Uma das grandes obras de suspense de Hitchcock, com Grace Kelly a enganar o marido, este a contar com o dinheiro dela e John Williams num irresistível inspector da polícia. Originalmente em 3-D.
07. QUINTA
THE LADY VANISHES (Desaparecida!)
com Margaret Lockwood, Michael Redgrave, Paul Lukas, Dame May Whitty
Reino Unido, 1938 - 95''
Um dos mais famosos filmes do período inglês de Hitchcock, é também uma espécie de resumo dessa fase da sua obra. Colocando a tónica no humor, narra uma história de espionagem clássica, que envolve um grupo de nazis e uma velha e fleumática senhora inglesa, num comboio que atravessa a região dos Balcãs. Um dos mais brilhantes exercícios de estilo do realizador.
08. SEXTA
STRANGERS ON A TRAIN (O Desconhecido do Norte-Expresso)
com Farley Granger, Robert Walker, Ruth Roman, Patricia Hitchcock, Leo G. Carroll
EUA, 1951 - 101''
STRANGERS ON A TRAIN é um filme onde Hitchcock filma, de maneira quase abstracta, o enorme novelo moral que envolve a humanidade (e para o qual não há resposta, nem saída, nem solução). Neste thriller, exemplo eloquente do seu génio, adapta uma novela que impôs Patricia Highsmith como autora de referência do género, onde conta a história de uma estranha "troca" de crimes.
09. SÁBADO
PSYCHO (Psico)
com Anthony Perkins, Janet Leigh, Vera Miles, John Gavin, Martin Balsam, John McIntire, Simon Oakland
EUA, 1960 - 109''
Hitchcock usou PSYCHO para definir o que considerava "cinema puro". "Não se trata de uma grande interpretação que tivesse abalado o público. Não se trata de um romance muito apreciado que tivesse cativado o público. O que emocionou o público foi o filme puro" (Hitchcock). Em PSYCHO, o filme mais mítico de Hitch e o mais imitado, e o maior êxito comercial do realizador, que lançou a "moda" dos "serial killers" no cinema, Hitch aplicou muitas das experiências que desenvolveu nas séries televisivas que realizou na mesma época.
14. QUINTA
JAMAICA INN (A Pousada da Jamaica)
com Charles Laughton, Maureen O'Hara, Robert Newton, Leslie Banks, Emlyn Williams
Reino Unido, 1939 - 94'' / sem legendas
O ultimo filme da fase britânica de Hitchcock, feito já com um pé na América, segundo uma popular novela de Daphne du Maurier, autora também de REBECCA, a estreia de Hitch nos EUA. É a história de uma órfã irlandesa (Maureen O'Hara no papel que a revelou) na costa da Cornualha no século XVIII, vivendo numa sinistra mansão que abriga um bando responsável pelos naufrágios na costa. Feito por iniciativa de Laughton e para Laughton, tudo indica que o realizador jogou consciente e voluntariamente uma partilha de carácter com o actor.
15. SEXTA
UNDER CAPRICORN (Sob o Signo do Capricórnio)
com Ingrid Bergman, Joseph Cotten, Michael Wilding, Margaret Leighton, Cecil Parker
EUA, 1949 - 115''
Um dos filmes mais discutidos de Hitchcock, que nele leva a cabo outra experiência notável no uso do plano-sequência (depois de ROPE), e que aqui tem uma genial aplicação na sequência da confissão de Ingrid Bergman, num grande plano que dura quase dez minutos. Tendo por cenário a Austrália do século XIX, que era também um local de degredo para condenados pela lei, UNDER CAPRICORN é uma admirável história de amor, de culpa e de redenção, fotografada com mão de mestre por Jack Cardiff.
16. SÁBADO
ROPE (A Corda)
com James Stewart, Farley Granger, John Dall, Cedric Hardwicke, Joan Chandler
EUA, 1945 - 80''
ROPE é o mais famoso "tour de force" técnico de Hitchcock: narrado em tempo real, o filme inteiro é composto por um só plano aparente, cada bobina contendo um único plano-sequência. É a história de dois estudantes, que matam um amigo unicamente pelo "prazer" de cometer um "acto gratuito", e que recebem um grupo de convidados para jantar, com o cadáver escondido no apartamento.
21. QUINTA
YOUNG AND INNOCENT
com Nova Pilbeam, Derrick de Marney, Percy Marmont, Mary Clare
Reino Unido, 1937 - 80'' / legendado em espanhol
YOUNG AND INNOCENT é um dos menos conhecidos filmes de Hitchcock, embora se inclua na fase mais rica do seu período inglês. É também aquele que, neste período, se afasta do tema da espionagem, centrando-se apenas na questão do "falso culpado" que procura descobrir o autor do crime de que é acusado. YOUNG AND INNOCENT contem um dos grandes "tour de force" técnicos de Hitchcock: o famoso travelling que atravessa a sala de baile para mostrar o criminoso entre os membros da orquestra.
22. SEXTA
SPELLBOUND (A Casa Encantada)
com Gregory Peck, Ingrid Bergman, Leo G. Carroll, John Emery, Michael Chekhov, Rhonda Fleming
EUA, 1945 -111''
SPELLBOUND marca o encontro de Hitchcock com Gregory Peck e Ingrid Bergman. O tema principal é o amor, numa história de dedicação e sacrifício de uma mulher capaz de tudo para defender o seu amado. Ela é uma psicanalista. Ele um seu paciente, que se fez passar pelo médico que é acusado de ter morto. E à volta disto, uma incursão pelos meandros da psicanálise, com uma sequência de antologia; o sonho de Gregory Peck, encenado por Salvador Dali.
23. SÁBADO
NOTORIOUS (Difamação)
com Cary Grant, Ingrid Bergman, Claude Rains, Louis Calhern, Leopoldine Konstantin
EUA, 1946 - 99''
Para muitos, trata-se da obra-prima absoluta de Hitchcock, uma soberba história de amor tendo por pano de fundo uma intriga de espionagem. NOTORIOUS é o filme do voluptuoso beijo entre Ingrid e Cary, num movimento de câmara tantas vezes imitado e nunca igualado. É o filme de uma expiação, de uma mulher pelos homens, primeiro o pai, e depois o amante. É também o filme da suspeita, mas esta exterior, dos serviços secretos americanos a propósito da utilização do urânio no argumento do filme. E é também o filme em que ao gosto do champanhe se junta o sabor do suspense.
28. QUINTA
REBECCA
com Laurence Olivier, Joan Fontaine, Judith Anderson, George Sanders, Nigel Bruce, Gladys Cooper, Florence Bates, Reginald Denny, C. Aubrey Smith, Leo G. Carroll
EUA, 1940 - 130''
REBECCA foi a passadeira vermelha lançada por Hollywood para receber o "mestre do suspense". De certo modo, a própria novela de Daphne du Maurier fora escrita a pensar na sua adaptação por Hitch, e para Olivier como intérprete. Mas o filme é também a frágil personagem de Joan Fontaine, a "sombra" sinistra de Mrs Danvers, a governanta (Judith Anderson) e o fantasma presente de Rebeca, que domina o filme de uma ponta a outra.
29. SEXTA
TO CATCH A THIEF (Ladrão de Casaca)
com Cary Grant, Grace Kelly, Charles Vanel, Brigitte Auber, John Williams
EUA, 1955 - 97'' / legendado em espanhol
Hitchcock e Grace Kelly no seu último encontro, antes dela se tornar princesa de Mónaco. Grant é um ladrão de jóias retirado, que volta à acção quando alguém lhe usurpa o nome numa série de audaciosos roubos. É também uma comédia onde sobressaem mais claramente as obsessões eróticas que povoam a obra de Hitch, com destaque para a cena arquetípica do fogo de artifício.
30. SÁBADO
REAR WINDOW (Janela Indiscreta)
com James Stewart, Grace Kelly, Wendell Corey, Thelma Ritter, Raymond Burr
EUA, 1954 - 112'' / legendado em francês
Pode chamar-se um "filme de câmara", de tal forma tudo se circunscreve à visão a partir da sala onde o herói, um fotógrafo com a perna em gesso devido a um acidente (James Stewart), passa o tempo bisbilhotando a vida dos vizinhos, até ao momento em que se depara com um crime. A notável articulação entre os espaços do interior do apartamento de Stewart e o pátio e as traseiras dos vizinhos, é o resultado de um dos mais fabulosos trabalhos de "set designing" da história do cinema.
Retomando a viagem pelo mundo dos Oscar®, em Setembro a estatueta em questão é a Direcção Artística:
THE MERRY WIDOW
, de Ernst Lubitsch (1934)
LOST HORIZON (Horizonte Perdido)
, de Frank Capra (1937)
THE THIEF OF BAGDAD (O Ladrão de Bagdad)
, de Michael Powell, Ludwig Berger e Tim Whelan (1940)
THE SONG OF BERNADETTE (A Canção de Bernadette)
, de Henry King (1943)
FRENCHMAN'S CREEK (A Gaivota Negra)
, de Mitchell Leisen (1944)
BLACK NARCISSUS (Quando os Sinos Dobram)
, de Michael Powell e Emeric Pressburger (1946)
LITTLE WOMEN (Mulherzinhas)
, de Mervyn LeRoy (1949)
BARRY LYNDON (Barry Lyndon)
, de Stanley Kubrick (1975)
SUNSET BOULEVARD (Crepúsculo dos Deuses)
, de Billy Wilder (1950)
AMERICA, AMERICA
, de Elia Kazan (1963)
MY FAIR LADY
, de George Cukor (1964)
AN AMERICAN IN PARIS (Um Americano em Paris)
, de Vincente Minnelli (1951)
STAR WARS (A Guerra das Estrelas)
, de George Lucas (1977)
TESS
, de Roman Polanski (1979)
RAIDERS OF THE LOST ARK (Os Salteadores da Arca Perdida)
, de Steven Spielberg (1981)
DANGEROUS LIAISONS (Ligações Perigosas)
, de Stephen Frears (1988)
BATMAN
, de Tim Burton (1989)
HOWARDS END (Regresso a Howards End)
, de James Ivory (1992)
MOULIN ROUGE
, de Baz Luhrmann (2001)
THE AVIATOR (O Aviador)
, de Martin Scorsese (2004)
MEMOIRS OF A GEISHA (Memórias de Uma Gueisha)
, de Rob Marshall (2005)
NOVO CINEMA DO SOL NASCENTE
Além da continuação da História Permanente do Cinema, e de um ciclo sobre os Quatro Elementos, em Setembro a Cinemateca debruça-se sobre as mais recentes produções asiáticas.
REN XIAO YAO (Prazeres Desconhecidos)
, de Jia Zhang Ke (2002)
SHIJIE (O Mundo)
, de Jia Zhang Ke (2004)
ZHANTAI (Plataforma)
, de Jia Zhang Ke (2000)
BU SAN (Adeus Dragon Inn)
, de Tsai Ming-liang (2003)
XIAO CHENG ZHI CHUN (Primavera Numa Pequena Cidade)
, de Tian Zhuangzhuang (2002)
DARE MO SHIRANAI (Ninguém Sabe)
, de Koreeda Hirokazu (2004)
OLDBOY (Oldboy – Velho Amigo)
, de Park Chan-wook (2003)
2046
, de Wong Kar Wai (2004)
BIN-JIP (Ferro 3)
, de Kim Ki-duk (2004)
SAMARIA (A Samaritana)
, de Kim Ki-duk (2004)
BOM YEOREUM GAEUL GYEOUL GEURIGO BOM (Primavera, Verão, Outono, Inverno e… Primavera)
, de Kim Ki-duk (2003)
FA YEUNG NIN WA (Disponível Para Amar)
, de Wong Kar Wai (2000)
CHIHWASEON (Embriagado de Mulheres e de Pintura)
, de Im Kwon-taek (2002)
ZUOTIAN (A Separação)
, de Zhang Yang (2001)
ZATOICHI
, de Takeshi Kitano (2003)
SHIQI SUI DE DAN CHE (Bicicleta de Pequim)
, de Wang Xiaoshuai (2001)
NI NEIBIAN JIDIAN (Que Horas São Aí?)
, de Tsai Ming Liang (2001)
KOHI JIKO (Café Lumière)
, de Hou Hsiao-hsien (2003)
SUZHOU HE (O Rio Suzhu)
, de Lou Ye (2000)
CHA NO AJI (O Gosto do Chá)
, de Ishii Katsuhito (2004)
Mais detalhes em Cinemateca Portuguesa.