Realização: Gaspar Noé. Elenco: Nathaniel Brown, Paz de la Huerta, Cyril Roy, Emily ALyn Lind, Jesse Kuhn, Olly Alexander, Masato Tanno, Ed Spear. Nacionalidade: França / Alemanha / Itália / Canadá, 2009.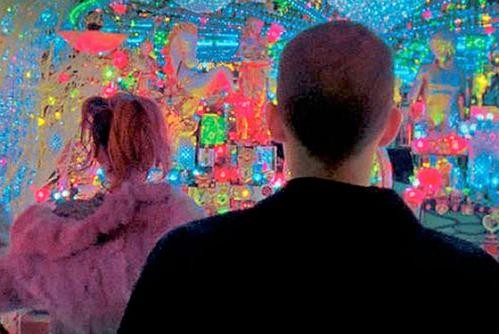 Começa a ser evidente que Gaspar Noé gosta de criar a náusea física no espectador. Foi a cena inicial de "Irréversible" e são agora os efeitos estroboscópicos de "Enter The Void". Mas a densidade narrativa e emocional que pautava o primeiro, parece estar quase ausente no segundo.
A sua abordagem à mortalidade seria até de uma ingenuidade comovedora se não fosse tão absurdamente ridícula. E aquilo que é tecnicamente sedutor e até surpreendente neste filme é totalmente contrariado por uma fraca dimensão interpretativa e por soluções que parecem apenas servir o propósito da transgressão pela transgressão, com muito pouca mensagem por trás.
Na quase totalidade do filme, a câmara de Noé localiza-se nos olhos ou na nuca de Oscar (Nathaniel Brown), um dealer americano que é morto em Tóquio pela polícia. A sua "alma" paira agora sobre cidade, vigiando os passos do seu amigo Alex (Cyril Roy) e da sua irmã (Paz de la Huerta), bailarina de strip.
A ostensiva narração do Livro Tibetano dos Mortos é tão orientadora do sentido em que o argumento se desloca, que não deixa qualquer margem de surpresa. Na sua brutalidade, "Enter The Void" beneficia de ser visto como uma experiência mais do que um filme. Uma viagem espacial, temporal e, em certa medida, espiritual.
Noé é um observador, e não permite ao seu espectador ser outra coisa. Se estamos sentados na cadeira temos de ver aquilo que ele nos quer mostrar, mesmo que leve mais de duas horas e meia, sob pena de sucumbirmos ao falso moralismo do bom gosto. É por ele que o fazemos, e por mais ninguém.