Scott Pilgrim vs. The World ***
Realização: Edgar Wright. Elenco: Michael Cera, Mary Elizabeth Winstead, Chris Evans, Anna Kendrick, Brandon Routh, Kieran Culkin, Jason Schwartzman, Aubrey Plaza. Nacionalidade: EUA / Reino Unido / Canadá, 2010.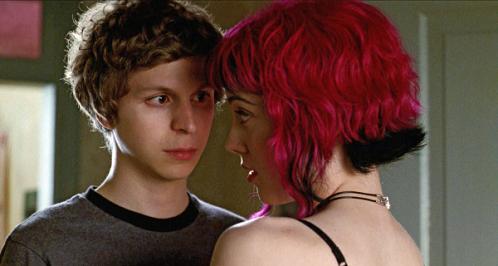 Sob a colorida e enérgica estética dos videojogos, "Scott Pilgrim vs. The World" conta a história de um rapaz desajeitado que se apaixona por uma rapariga melancólica.
De uma forma honesta (e, por isso mesmo, por vezes ridícula) relata o que se passa na mente insegura de um jovem, paralisado com o medo de ser rejeitado. Sobra a metáfora da bagagem emocional que todos levamos para cada nova relação, da luta contra esse passado, e do futuro incerto que nos espera, mesmo quando decidimos deixar-nos ir.