Realização: Garth Jennings. Elenco: Bill Milner, Will Poulter, Jules Sitruk, Jessica Stevenson, Neil Dudgeon, Ed Westwick, Anna Wing, Tallulah Evans. Nacionalidade: França / Reino Unido / Alemanha, 2007.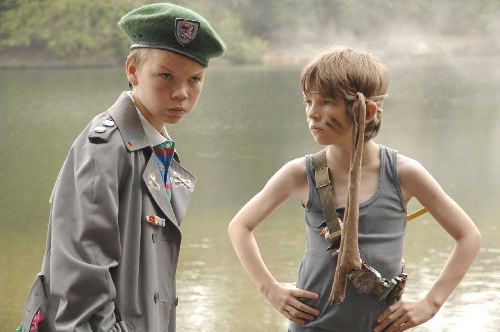 Depois de "The Hitchhiker's Guide to the Galaxy", Garth Jennings dá-nos um filme sobre a infância, onde a imaginação e o divertimento são os únicos escudos para fazer face às realidades do crescimento. "Son of Rambow" é uma viagem nostálgica ao Reino Unido dos anos 80, onde cada nova moda criava um novo ídolo e quando o cinema tinha a capacidade de criar revelações quase religiosas.
Will Proudfoot (Bill Milner) é um rapaz de 10 anos membro de uma seita religiosa evangelista que não vê com bons olhos a relação com membros fora da irmandade e proíbe todas as formas de entretenimento moderno, da música ao cinema. Will passa os dias refugiado na arrecadação do seu pai ausente, deixando a sua imaginação divagar em coloridos desenhos nas páginas da sua bíblia. Will é marginalizado na escola e, por outras razões, o mesmo acontece com o rebelde Lee Carter (Will Poulter), mais interessado em usar a câmara de filmar do irmão mais velho (Ed Westwick) para fazer uma versão do filme de Rambo "First Blood" e concorrer a um concurso de televisão do que em tomar atenção nas aulas. Depois de ter poupado Will a um castigo da directora, Lee cobra a ajuda de Will para realizar o filme. Quando, por acidente, Will vê a cópia pirata que Lee fez de "First Blood", a sua imaginação galopante leva-o a assumir na pele a personagem do filho de Rambo (ou melhor, Rambow, com o sotaque americano). De repente, Lee e Will são dois rapazes com uma missão e nada se vai interpor no seu caminho.
Will usa o filme para escapar às regras restritas a que está sujeito, enquanto Lee o usa exactamente para o contrário, para se auto-impor a disciplina de que os seus pais abdicaram. Os desafios que a concretização do filme lhes coloca são enfrentados com limitados recursos mas inesgotável entusiasmo. Mas quando a aventura começa a sair do controlo de Lee e Will (dois excelentes protagonistas não profissionais) e novos elementos entram na equipa sob a liderança do estudante francês Didier (Jules Sitruk), a amizade dos dois jovens é posta à prova.
É ao crescer que se aprende a fazer escolhas, a abdicar. Com o seu filme caseiro, Lee e Will juntam-se, com responsabilidade, em torno do propósito comum de contar uma história, usando a sua paixão pela arte como motor (neste afecto "Son of Rambow" assemelha-se bastante ao filme "Be Kind Rewind" de Michel Gondry).
O argumentista-realizador Garth Jennings tem um olho clínico no que diz respeito à forma como as crianças se tratam umas às outras: a necessidade de identificação, a crueldade nessa busca. Com imensa criatividade e uma ingenuidade quase infantil ele explora as imensas possibilidades de um simples recinto abandonado, como se fosse ele parte também daquele grupo de crianças. Jennings tem também o mérito da contenção: os disparates destes jovens são tontos mas nunca ridículos. Jennings recorre ainda a excertos de animação em passagens oníricas. Porque só na infância os sonhos se mantêm ainda a salvo da poluição do cinismo.
Dificilmente "Son of Rambow" será um filme apreciado por crianças, pela sua excentricidade, mas sobretudo porque grande parte da sua riqueza vem de um universo com o qual eles não conseguirão identificar-se. Mas para muitos, onde eu me incluo, "Son of Rambow" é um tocante passeio às referências impolutas da infância.
---
CLOSE TO ME
The Cure

I've waited hours for this
I've made myself so sick
I wish i'd stayed asleep today
I never thought that this day would end
I never thought that tonight could ever be
This close to me
Just try to see in the dark
Just try to make it work
To feel the fear before you're here
I make the shapes come much too close
I pull my eyes out
Hold my breath
And wait until I shake

But if I had your faith
Then I could make it safe and clean
If only I was sure
That my head on the door was a dream

I've waited hours for this
I've made myself so sick
I wish I'd stayed asleep today
I never thought that this day would end
I never thought that tonight could ever be
This close to me

But if I had your face
I could make it safe and clean
If only I was sure
That my head on the door
Was a dream