Realização: Noam Murro. Elenco: Dennis Quaid, Sarah Jessica Parker, Thomas Haden Church, Ellen Page, Ashton Holmes, Christine Lahti. Nacionalidade: EUA, 2008.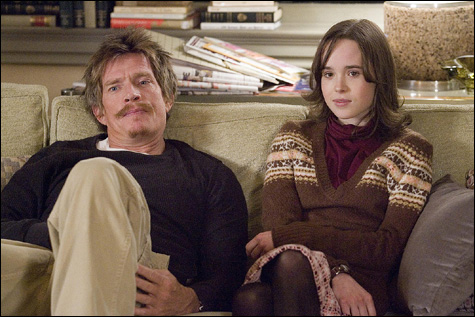 Lawrence Wetherhold (Dennis Quaid) é um misantropo professor catedrático que julga o mundo do alto do seu intelecto. Indiferente aos seus estudantes, ele vive fechado dentro da sua cabeça, sofrendo ainda a morte da sua mulher. A sua filha Vanessa (Ellen Page) é tão inteligente e infeliz quanto ele, tomando conta do pai para evitar ter de lidar com os seus próprios problemas. Quando Lawrence tem um acidente de carro e é impedido de conduzir durante seis meses, o seu irmão adoptivo Chuck (Thomas Haden Church) arranja maneira de se tornar indispensável assumindo o papel de seu motorista. Chuck é a ovelha negra da família, incapaz de manter um emprego, mas cuja forma de ver a vida vem destruir o status quo da família.
Sem ser brilhante "Smart People" é um filme bem pensado e ocasionalmente divertido sobre pessoas cuja superioridade intelectual está bem longe de ser sinónimo de sabedoria. Mas o argumento de Mark Poirier e a realização de Noam Murro evitam o facilitismo de fazer equivaler personagens inteligentes a indivíduos anti-sociais. Esta é uma família disfuncional, mas os seus elementos não são loucos. Mesmo a morte da mulher de Lawrence não é nunca usada para efeitos melodramáticos, ainda que esteja presente, como todo o sofrimento. E a sua tentativa de uma nova relação (Sarah Jessica Parker, finalmente descolada da irritante Carrie de "Sex and the City") é feita com um receio realista.
Os actores entregam-se ao texto e subtexto das suas personagens assumindo a sua identidade em todos os detalhes. Ellen Page num registo menos excessivo que em "Juno", Haden Church num regresso "Sideways".
Assumir uma atitude de superioridade perante o mundo é meio caminho andado para nunca o conhecer verdadeiramente. Quem sente que tudo o que o rodeia está abaixo do seu merecimento só pode ver-se mergulhado numa imensa frustração. Ser bem sucedido na vida não é o mesmo que ser aclamado ou ganhar muito dinheiro. E saber coisas é, em última instância, menos importante que saber quem somos.
---
CITAÇÕES:
"Vanessa– How's it feel to be stupid?
Loira – How's it feel to eat lunch alone every day?
Vanessa – It fuckin' sucks."
ELLEN PAGE (Vanessa)