CRÍTICA E OPINIÃO SOBRE CINEMA
Domingo, 22 de Abril de 2012
paixões confessadas
PROMETHEUS, de Ridley Scott
Sexta-feira, 20 de Abril de 2012
IndieLisboa'12
A 9ª edição já está aí à porta.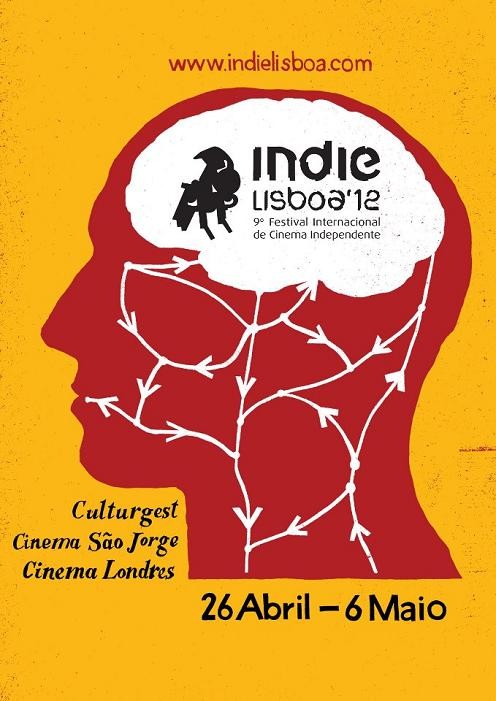 Para investigar aqui.
Quarta-feira, 18 de Abril de 2012
This Must Be The Place ***
Realização: Paolo Sorrentino. Elenco: Sean Penn, Frances McDormand, Judd Hirsch, Eve Hewson, Kerry Condon, Harry Dean Stanton, Joyce Van Patten, David Byrne, Olwen Fouere, Heinz Lieven, Grant Goodman. Nacionalidade: Itália / França / Irlanda, 2011.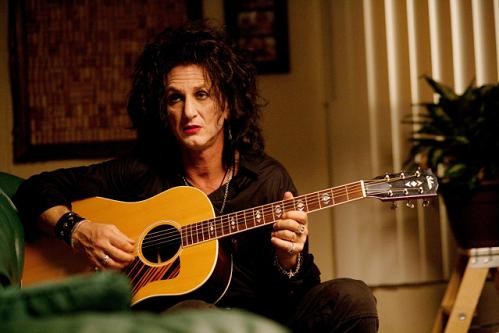 "This Must Be The Place" vive de duas coisas: a delicadeza da interpretação de Sean Penn como uma excêntrica estrela de rock, e a delicadeza da banda sonora, nas mãos de, entre outros, David Byrne e Will Oldham.
Impregnado de tristeza e inércia, com uma ambígua saudade do que nunca voltará a ser, o filme de Sorrentino ("Il Divo") vai fazendo pequenas revelações de forma quase episódica, sem nunca somar um todo coerente. Cativados pela estranheza de algumas situações e pelo humor de alguns dos diálogos, somos largados sem perceber a que se deve, afinal, o crescimento emocional do protagonista.
Ao fazer contas com o passado corremos o risco de nos deparar com dívidas incobráveis. E, aí, só dois caminhos nos restam: o pagamento ou o perdão.
Quinta-feira, 12 de Abril de 2012
8 ½ Festa do Cinema Italiano
De volta para a sua 5ª edição.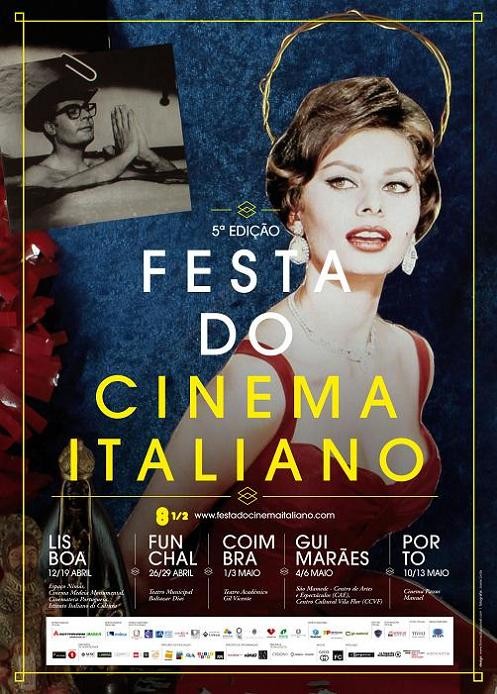 Programa disponível no site oficial.
Quarta-feira, 11 de Abril de 2012
Enter The Void **
Realização: Gaspar Noé. Elenco: Nathaniel Brown, Paz de la Huerta, Cyril Roy, Emily ALyn Lind, Jesse Kuhn, Olly Alexander, Masato Tanno, Ed Spear. Nacionalidade: França / Alemanha / Itália / Canadá, 2009.
Começa a ser evidente que Gaspar Noé gosta de criar a náusea física no espectador. Foi a cena inicial de "Irréversible" e são agora os efeitos estroboscópicos de "Enter The Void". Mas a densidade narrativa e emocional que pautava o primeiro, parece estar quase ausente no segundo.
A sua abordagem à mortalidade seria até de uma ingenuidade comovedora se não fosse tão absurdamente ridícula. E aquilo que é tecnicamente sedutor e até surpreendente neste filme é totalmente contrariado por uma fraca dimensão interpretativa e por soluções que parecem apenas servir o propósito da transgressão pela transgressão, com muito pouca mensagem por trás.
Na quase totalidade do filme, a câmara de Noé localiza-se nos olhos ou na nuca de Oscar (Nathaniel Brown), um dealer americano que é morto em Tóquio pela polícia. A sua "alma" paira agora sobre cidade, vigiando os passos do seu amigo Alex (Cyril Roy) e da sua irmã (Paz de la Huerta), bailarina de strip.
A ostensiva narração do Livro Tibetano dos Mortos é tão orientadora do sentido em que o argumento se desloca, que não deixa qualquer margem de surpresa. Na sua brutalidade, "Enter The Void" beneficia de ser visto como uma experiência mais do que um filme. Uma viagem espacial, temporal e, em certa medida, espiritual.
Noé é um observador, e não permite ao seu espectador ser outra coisa. Se estamos sentados na cadeira temos de ver aquilo que ele nos quer mostrar, mesmo que leve mais de duas horas e meia, sob pena de sucumbirmos ao falso moralismo do bom gosto. É por ele que o fazemos, e por mais ninguém.
Terça-feira, 10 de Abril de 2012
Kill List ***
Realização: Ben Wheatley. Elenco: Neil Maskell, MyAnna Buring, Harry Simpson, Michael Smiley, Emma Fryer. Nacionalidade: Reino Unido, 2011.
Sem trabalho há oito meses, Jay (Neil Maskell) é tentado por um amigo a voltar à sua actividade de assassino a soldo. Da humilhação que sofre às mãos da mulher (MyAnna Buring) pela sua improdutividade à confiança que adquire do prazer de matar, Jay vai caminhando às escuras e, como ele, nós. E nem as tentativas do amigo Gal (Harry Simpson) em controlar a fúria de Jay apelando ao seu profissionalismo atenuam a sensação de desespero.
Os argumentistas Ben Wheatley e Amy Jump vão colocando breves elementos estranhos em momentos de total normalidade, elementos que insidiosamente nos dão a entender que as coisas vão, quase certamente, acabar mal.
"Kill List" começa por ser um drama doméstico, para depois se transformar num thriller num caminho de ascendente sadismo, até culminar no terror sinistro. E apesar da sua aparente ambiguidade é um filme que sabe perfeitamente a que cantos escuros nos quer levar.
Segunda-feira, 9 de Abril de 2012
Margin Call **
Realização: J.C. Chandor. Elenco: Kevin Spacey, Paul Bettany, Jeremy Irons, Zachary Quinto, Penn Badgley, Simon Baker, Mary McDonnell, Demi Moore, Stanley Tucci. Nacionalidade: EUA / Suécia / Reino Unido / Canadá, 2010.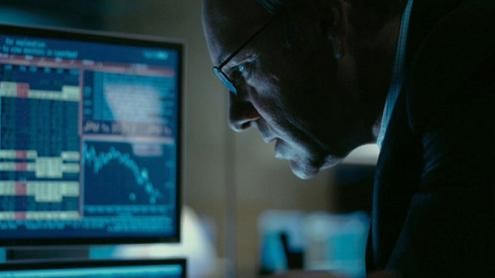 Mais pelo processo que retrata do que pela tensão que cria, esta é uma história sem heróis, onde se evidencia o verdadeiro handycap que pode ser a ética no mundo dos negócios.
Preso à realidade mas sem ser de forma declarada, a estreia de J.C. Chandor nas longas-metragens acaba por se manter tão à margem que nos deixa sem uma explicação satisfatória (ou sequer inteligível) para o que se passou nas 24 horas que antecederam a crise financeira a que temos o "privilégio" de assistir.
Domingo, 8 de Abril de 2012
Young Adult **1/2
Realização: Jason Reitman. Elenco: Charlize Theron, Patton Oswalt, Patrick Wilson, Elizabeth Reaser, Jill Eikenberry, Richard Bekins. Nacionalidade: EUA / Suécia / Reino Unido / Canadá, 2010.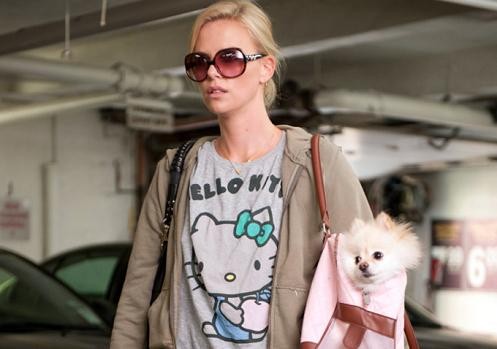 Mavis (Charlize Theron) cresceu a saber que beleza é poder. Usou e abusou dele para conseguir o que queria. Até dar de caras com a inevitável limitação argumentativa de um bem que desvaloriza com extrema rapidez.
Desencantada com o que obteve da vida, e sem perceber que se defraudou a si mesma, decide procurar no passado a sua realização pessoal, habituada que está a obter validação através dos outros.
A segunda colaboração do realizador Jason Reitman e da argumentista Diablo Cody é bem mais cínica que a sua primeira, "Juno". Da ilusão à desilusão, mostram-nos a vacuidade da perfeição (desmontando mesmo o processo físico que a ficciona), culminando na humilhação e na pena.
A personagem de Theron é amarga, egocêntrica e superficial. Mesmo com essa clareza, nós, meros mortais, não conseguimos resistir ao seu magnetismo.