CRÍTICA E OPINIÃO SOBRE CINEMA
Quarta-feira, 31 de Agosto de 2011
X-Men: First Class ***1/2
Realização: Matthew Vaughn. Elenco: James McAvoy, Michael Fassbender, Kevin Bacon, Rose Byrne, January Jones, Jennifer Lawrence, Nicholas Hoult. Nacionalidade: EUA, 2010.
Ignorando as inconsistências com a BD original, "X-Men: First Class" pode facilmente ser apreciado como aquilo que é, uma prequela ao franchise iniciado em 2000, que serve essencialmente para contextualizar a dinâmica entre o Professor Charles Xavier (Patrick Stewart) e Magneto (Ian McKellen) e o background de algumas das outras personagens (incluindo pistas e cameos para o futuro que já conhecemos).
Para tal, beneficia da indiscutível química entre James McAvoy e Michael Fassbender (o meu mais recente actor preferido), e da ágil e energética realização de Matthew Vaughn ("Kickass"). Entre a lógica e a paranóia, entre a luz e a escuridão, Charles e Erik são duas possibilidades paralelas de um mesmo ser.
Ser super-herói continua, sobretudo, a parecer ser muito divertido.
Terça-feira, 30 de Agosto de 2011
The Tree of Life ***
Realização: Terrence Malick. Elenco: Brad Pitt, Sean Penn, Jessica Chastain, Hunter McCracken, Laramie Eppler, Tye Sheridan. Nacionalidade: EUA, 2011.
Malick é um gosto adquirido e "The Tree of Life" será, possivelmente, o produto menos consensual a sair das suas mãos.
Visualmente irrepreensível, o olhar de Malick (e a fotografia de Emmanuel Lubezki) é um olhar emocional e profundo sobre a dicotomia (humana) do amor/perdão e raiva/conflito.
Um filme que se queria humanista mais do que o religioso que acaba por ser, com a força do particular, do individual, a ser abafada por um simbolismo excessivo.
Ainda assim persiste. No confronto com a nossa própria efemeridade e insignificância a que nos "obriga".
Segunda-feira, 29 de Agosto de 2011
Barney's Version **1/2
Realização: Rob Epstein e Jeffrey Friedman. Elenco: Paul Giamatti, Rosamund Pike, Minnie Driver, Rachelle Lefevre, Scott Speedman, Dustin Hoffman. Nacionalidade: Canadá / Itália, 2010.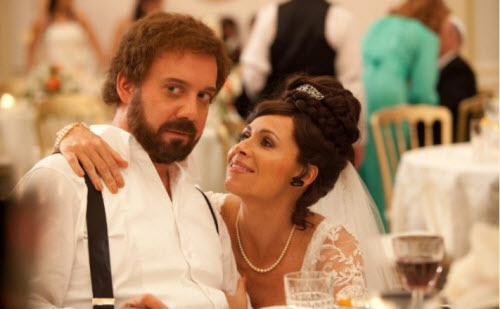 A nossa história é a das pessoas que marcaram a nossa vida, umas de passagem outras nem tanto. Barney (Paul Giamatti) é o reflexo das suas paixões, dos seus amigos, dos seus familiares, cada um deles servindo para evidenciar determinados aspectos da sua personalidade, da felicidade à miséria.
A nossa história, contada pelas nossas palavras, é também (e somente) uma versão da realidade (ergo, da verdade). Colocamo-nos como heróis da nossa própria existência, onde outros facilmente nos classificariam como vilões.
Giamatti explicando-nos (como se precisássemos de provas!) porque ganhou o prémio de melhor interpretação masculina nos Globos de Ouro deste ano.