CRÍTICA E OPINIÃO SOBRE CINEMA
Sábado, 30 de Abril de 2011
La Solitudine dei Numeri Primi ***1/2
Realização: Saverio Costanzo. Elenco: Alba Rohrwacher, Luca Marinelli, Arianna Nastro, Vittorio Lomartire, Aurora Ruffino, Isabella Rossellini , Maurizio Donadoni. Nacionalidade: Itália, 2010.
Uma rapariga e um rapaz unidos pelo magnetismo do seu sofrimento individual, crescem sem nunca se sentirem parte de coisa alguma, se não um do outro. Sós, isolados, eles reconhecem-se. As suas almas procurando-se através das suas impenetráveis tristezas.
O filme ameniza o que no livro de Paolo Giordano é brutal. Por isso, aproveitem a Feira que aí está. Porque um livro é um livro é um livro.
Sexta-feira, 29 de Abril de 2011
Tournée **1/2
Realização: Mathieu Amalric. Elenco: Miranda Colclasure, Suzanne Ramsey, Dirty Martini, Julie Atlas Muz, Evie Lovelle, Mathieu Amalric. Nacionalidade: França, 2010.
O burlesco como escape numa realidade melancólica, desolada e decadente. Amizades súbitas e intimidades inesperadas. Uma bomba de gasolina como cenário de uma fugaz possibilidade de felicidade. Uns e outros passam. The show goes on.
Quarta-feira, 27 de Abril de 2011
Les Aventures Extraordinaires d'Adèle Blanc-Sec ***
Realização: Luc Bessom. Elenco: Louise Bourgoin, Mathieu Amalric, Gilles Lellouche, Jean-Paul Rouve, Jacky Nercessian, Philippe Nahon, Nicolas Giraud, Laure de Clermont. Nacionalidade: França, 2010.
A adaptação de Luc Besson da banda desenhada de Jacques Tardi é uma versão de época de Indiana Jones, com a energia e o humor, mas acrescida da sagacidade feminina.
Besson dá-lhe todo o estilo visual necessário para acompanhar a cativante presença (e beleza) de Louise Bourgoin. E nós agradecemos. Por ambos.
Blanc-Sec, como o vinho.
Quinta-feira, 21 de Abril de 2011
Last Night ***
Realização: Massy Tadjedin. Elenco: Keira Knightley, Sam Worthington, Eva Mendes, Guillaume Canet. Nacionalidade: EUA / França, 2010.
De uma forma ou de outra, já todos traímos, em acto ou em pensamento, alguma pessoa com quem estivemos. De uma forma ou de outra, já todos nos sentimos inseguros ao ponto de achar que o outro nos podia, tentado, ser infiel. Já todos criámos ou sentimos ciúmes, já todos confiámos e desconfiámos.
Manipular emocionalmente o outro, para que ele nos prove o quanto nos ama. Medir o outro por nós mesmos, achando que fazem o que nós, na mesma situação, faríamos. Criar discussões e conflitos que possam justificar as nossas próprias acções ou vontades. Evidenciar as nossas falhas para que seja o outro a tomar a derradeira decisão.
Filme altamente desaconselhado a casais com relações tremidas. Quando as luzes se acenderem, qualquer palavra ou silêncio, podem ser os últimos.
Terça-feira, 19 de Abril de 2011
Tropa de Elite 2 - O Inimigo Agora é Outro ***1/2
Realização: José Padilha. Elenco: Wagner Moura, Irandhir Santos, André Ramiro, Pedro Van-Held, Maria Ribeiro, Sandro Rocha, Milhem Cortaz, Tainá Müller, Seu Jorge, André Mattos. Nacionalidade: Brasil, 2010.
Acompanhando de novo os percursos de Nascimento (Wagner Moura) e Matias (André Ramiro), "Tropa de Elite 2", a sequela de "Tropa de Elite", o premiado filme de José Padilha, pode ser facilmente visto como um filme independente e separado do primeiro.
Desde a cena inicial, o nível de energia e o ritmo parecem nunca abrandar. E apesar da violência ser menos brutal que na prequela, "Tropa de Elite 2" concentra mais raiva e revolta. Desta feita contra a corrupção, da polícia e do governo. Está classificado como 'ficção'. Pois.
Quarta-feira, 13 de Abril de 2011
8 ½ Festa do Cinema Italiano
O cinema italiano regressa amanhã, na 4ª edição de 8 ½ Festa do Cinema Italiano.
Em antestreia nacional "A Solidão dos Números Primos" de Saverio Costanzo, adaptação do belíssimo livro de Paolo Giordano.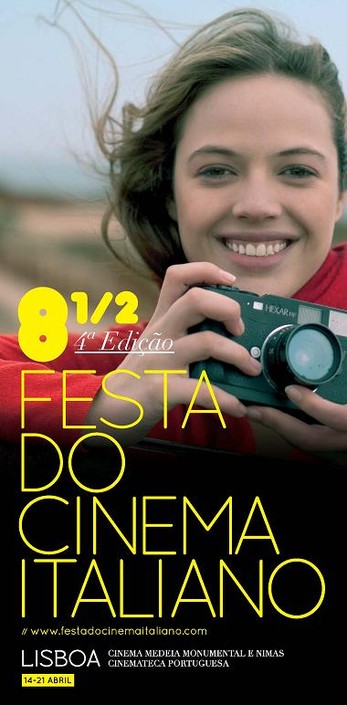 Domingo, 10 de Abril de 2011
Sidney Lumet
(25.06.1924 – 09.04.2011)
Sexta-feira, 8 de Abril de 2011
The Resident **1/2
Realização: Antti Jokinen. Elenco: Hilary Swank, Jeffrey Dean Morgan, Lee Pace, Christopher Lee. Nacionalidade: Reino Unido / EUA, 2011.
Um thriller satisfatório, que usa em seu benefício o espaço físico de um apartamento em Nova Iorque, e os efeitos sonoros para intensificar o suspense e a paranóia.
Pelo prazer dos "cheap thrills".