Realização: Jonathan Dayton e Valerie Faris. Elenco: Abigail Breslin, Greg Kinnear, Paul Dano, Alan Arkin, Toni Collette, Steve Carell. Nacionalidade: EUA, 2006.
Richard (Greg Kinnear) faz palestras sobre motivação, e espera que o seu programa de 9 passos se torne um sucesso. Dwayne (Paulo Dano, ("The Ballad of Jack and Rose" de Rebecca Miller, 2005); "L.I.E." de Michal Cuesta, 2001), o seu filho de 15 anos quer ser piloto de caças e fez um voto de silêncio como prova da sua determinação. O pai de Richard (Alan Arkin) é um viciado em heroína que vive em casa do filho depois de ter sido expulso da casa de repouso. Sheryl (Toni Collette), a mulher de Richard, acaba de ir buscar o irmão Frank (Steve Carell) ao hospital depois de este se ter tentado suicidar por um desgosto de amor. Quando Olive (Abigail Breslin, "Signs" de M. Night Shyamalan, 2002), a filha mais nova do casal, é convidada a participar no concurso de beleza infantil Little Miss Sunshine, esta família disfuncional mete-se a caminho da Califórnia numa carrinha Volkswagen amarela, o sétimo protagonista da pequena pérola que é este filme independente.
O casal Jonathan Dayton e Valerie Faris, realizadores de vídeos para bandas como R.E.M., The Smashing Pumpkins ou Red Hot Chili Peppers, estreiam-se nas longas-metragens com um argumento do também estreante Michael Arndt.
Neste road movie, o exíguo espaço de uma carrinha (que me fez lembrar de uma Toyota Hiace que partilhei este ano com mais 12 pessoas durante largos e lentos quilómetros!) exige o confronto de uma família, expondo os seus problemas e inseguranças, mas também o entendimento e aproximação que se geram em torno do inocente sonho de Olive, que cresceu a ver concursos de misses (a pressão da imagem mediática é extremamente forte na cena do restaurante em que Richard incute um pesado sentimento de culpa em Olive por ela querer comer um gelado).
Curiosamente, apesar de quase caricaturais, é impossível não acreditar na genuinidade destas estranhas personagens, que acabam por se entranhar. A culpa é, sobretudo, do talento de todo o elenco, especialmente de Alan Arkin, que rouba todas as cenas, e de Abigail Breslin, sem as típicas afectações de pequena estrela. Para Toni Collette sobra o papel mais sério, mas imprescindível na coesão deste grupo.
"Little Miss Sunshine" é um filme que fala da importância de vencer numa sociedade que exige, por vezes, o impossível e onde se esquece que ser mais não é o mesmo que ser melhor. A fome de êxito esconde, muitas vezes, faltas muito mais essenciais. Entre risos e tristezas, a história de "Little Miss Sunshine" vai-se adensando em camadas, ao longo da estrada. Com a acção, as personagens crescem, com elas o filme, com o filme nós próprios.
Mas para um filme que envolve drogas, morte e várias referências a Nietzsche e Proust, "Little Miss Sunshine" tem a estranha capacidade de nos deixar tremendamente bem dispostos. Com sarcasmo e absurdo, "Little Miss Sunshine" condena a abusiva cultura dos resultados, a par da obscenidade dos concursos de beleza infantis. E apesar da constante alternância de tom, este filme mantém a sua solidez e consistência, nunca deixando que a seriedade se perca na comédia.
Usando e despertando fortes emoções, "Little Miss Sunshine" é um filme delicioso sobre as coisas que fazemos pelas pessoas que amamos, mesmo quando essas pessoas dão connosco em doidos.
P.S. - Uma nota final para a banda sonora, à base de Mychael Danna e DeVotchKa, mas de onde destaco o abaixo citado Sufjan Stevens (por favor, alguém traga este senhor a Portugal!!!).
---
CITAÇÕES:
"There's no sense in entering a contest if you don't think you can win."
"Olive: Grandpa, am I pretty?
Grandpa - You are the most beautiful girl in the world.
Olive - You're just saying that.
Grandpa - No! I'm madly in love with you and it's not because of your brains or your personality."
ABIGAIL BRESLIN (Olive) e ALAN ARKIN (Edwin Hoover)

"Losers are people who are so afraid of not winning, they don't even try."
ALAN ARKIN (Edwin Hoover)

"You know what? Fuck beauty contests. Life is one fucking beauty contest after another. School, then college, then work... Fuck that. And fuck the Air Force Academy. If I want to fly, I'll find a way to fly. You do what you love, and fuck the rest!"
PAUL DANO (Dwayne)

"Dwayne - I wish I could just sleep until I was eighteen and skip all of this, high school, everything.
Frank - [explica que Proust acreditava que o sofrimento faz de nós quem nós somos] So if you go to sleep until you're 18...? Think of all the suffering you're gonna miss! High school's your prime suffering years! You don't get better suffering than that!"
PAUL DANO (Dwayne) e STEVE CARELL (Frank)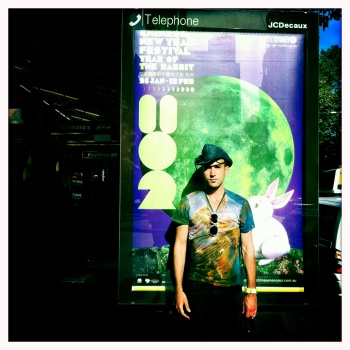 CHICAGO
Sufjan Stevens


I fell in love again
all things go, all things go
drove to Chicago
all things know, all things know
we sold our clothes to the state
I don't mind, I don't mind
I made a lot of mistakes
in my mind, in my mind

you came to take us
all things go, all things go
to recreate us
all things grow, all things grow
we had our mindset
all things know, all things know
you had to find it
all things go, all things go

I drove to New York
in the van, with my friend
we slept in parking lots
I don't mind, I don't mind
I was in love with the place
in my mind, in my mind
I made a lot of mistakes
in my mind, in my mind

you came to take us
all things go, all things go
to recreate us
all things grow, all things grow
we had our mindset
all things know, all things know
you had to find it
all things go, all things go

if I was crying
in the van, with my friend
it was for freedom
from myself and from the land
I made a lot of mistakes
I made a lot of mistakes
I made a lot of mistakes
I made a lot of mistakes

you came to take us
all things go, all things go
to recreate us
all things grow, all things grow
we had our mindset
all things know, all things know
you had to find it
all things go, all things go

you came to take us
all things go, all things go
to recreate us
all things grow, all things grow
we had our mindset
(I made a lot of mistakes)
all things know, all things know
(I made a lot of mistakes)
you had to find it
(I made a lot of mistakes)
all things go, all things go
(I made a lot of mistakes)